Medical ventilation: an integral part of healthcare facilities

The importance of ventilation in healthcare facilities
Ventilation in healthcare facilities plays a critical role in creating a safe and healthy environment for patients, medical staff and visitors. Here are some key factors that reflect the importance of ventilation in healthcare facilities:
Infection control: Healthcare facilities, especially hospitals and outpatient clinics, are places where the risk of transmitting infectious diseases increases. An effective ventilation system helps control the spread of airborne infections by removing contaminated air and replacing it with fresh air.
Patient comfort: For patients, especially those undergoing long-term treatment, indoor comfort is of utmost importance. Proper ventilation helps to maintain optimal temperature and humidity levels, contributing to a comfortable patient experience.
Working conditions for medical staff: Doctors, nurses and other medical staff spend most of their working day in healthcare facilities. A well-ventilated space helps reduce fatigue and stress and increases productivity.
Compliance with standards: Healthcare facilities in many countries have strict regulations and standards for ventilation quality. The use of efficient ventilation systems helps to meet these standards, preventing fines or loss of licence.
Hospital ventilation: what to look for
A number of specific requirements must be taken into account in hospital ventilation. The system must ensure air purity, maintain a comfortable temperature and humidity, and reduce the risk of infections.
Private hospital ventilation: an individual approach
Ventilation in a private hospital requires an individual approach. Private healthcare facilities usually have more space and high standards of comfort. Therefore, the equipment must be of high quality, energy efficient and reliable.
Outpatient ventilation: specifics of installation
Outpatient ventilation has its own peculiarities. This is due to the specifics of medical procedures performed in an outpatient setting and the need for constant air exchange.
Equipment selection: energy efficiency at the design stage
At the design stage, it is important to choose ventilation equipment that provides high energy efficiency. This will not only save on energy, but also create a healthy environment for patients and staff.
Installation of ventilation systems: features of work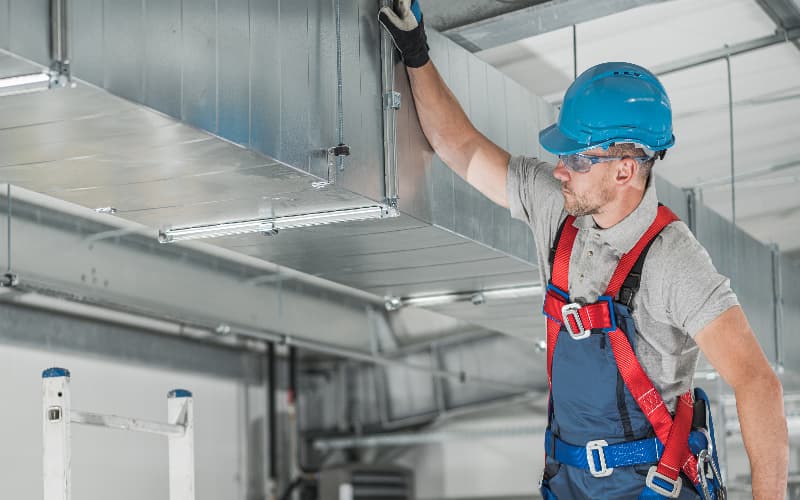 Installation of a medical facility's ventilation system is a responsible process that requires a professional approach. It includes the design, selection and supply of equipment, as well as its installation and adjustment.
Choosing the right equipment
The first step to effective ventilation in a medical facility is to choose the right equipment. You need to take into account the type of facility, its size, number of rooms, and the specifics of the medical procedures that are performed there.
Professional design
At the design stage, it is important to develop a detailed scheme of the ventilation system, taking into account all the requirements for air quality, temperature and noise levels.
Supply and installation of equipment
The supply and installation of ventilation equipment is a responsible process that requires high qualifications and compliance with all technical standards and regulations. It is important to ensure the correct location of all system components, their reliable fastening and connection.
Setup and maintenance
After installation, it is important to configure the ventilation system and schedule periodic maintenance to maintain its efficient operation.
Conclusion.
Ventilation in medical facilities is an integral part of creating a healthy and comfortable environment for patients and staff. Choosing the right equipment, professional design, responsible installation and timely maintenance are key elements of an effective ventilation system. "World of Ventilation Equipment" will be happy to assist you in this process, providing the best ventilation solutions for your medical facility!